Painting your RV kitchen two-toned can be a fun and creative way to give your RV a fresh look. Here's a step-by-step guide to help you with the DIY two toned paint project.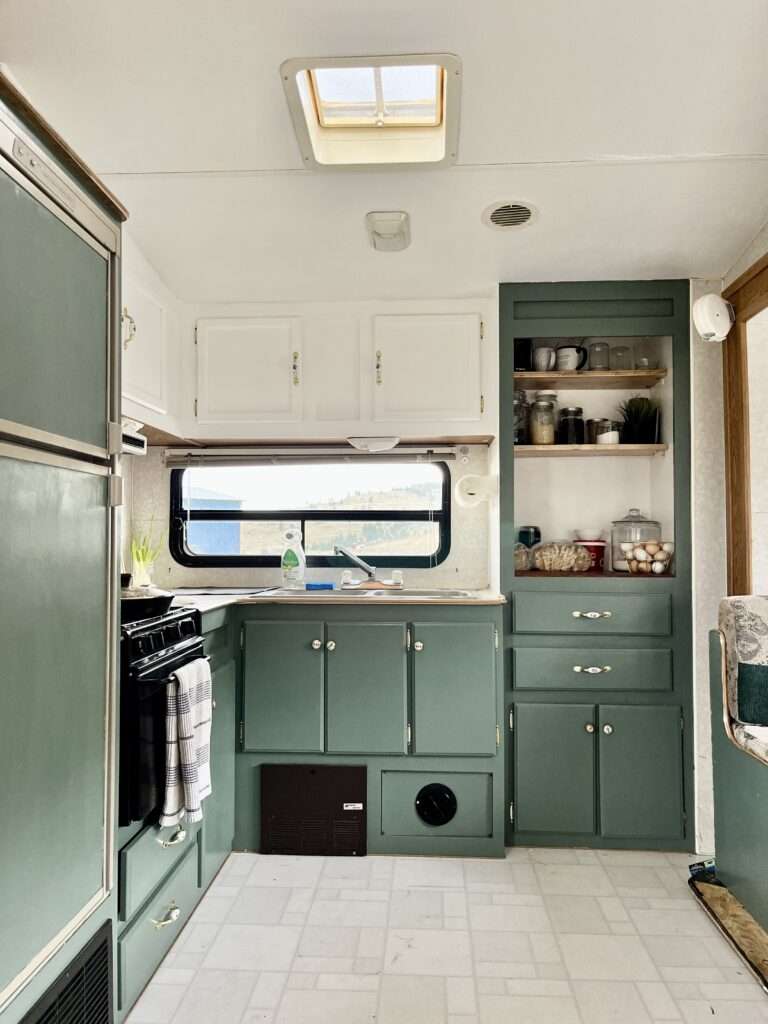 Similar posts you may like:
This post may contain affiliate or sponsored content.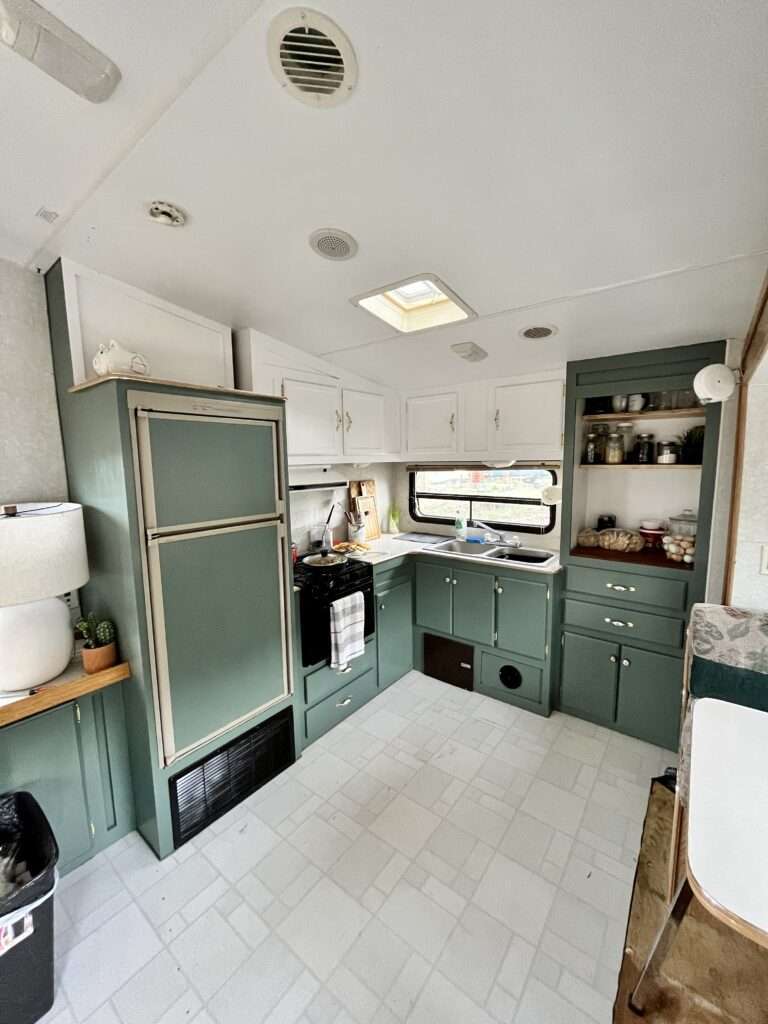 Materials you'll need:
Primer (if your paint does not come with primer in it)
Two different paint colors (one for the upper cabinets and one for the lower cabinets)(I really like Behr paint and would highly recommend it) I chose white for the top cabinets and heritage park green for the bottom.  * see note
Screwdriver (to remove cabinet hardware) or drill with bits for faster job
*Note: Make sure you get latex paint (not acyrlic) for cabinets.
**Find inspiration of what color paint to buy, go to Home Depot and check the paint cards.
Directions:
Buy the paint and materials first.
We decided to paint the bottom cabinets heritage park green/grey by Behr. I didn't want to do white on the bottom because the dirt and fingerprints are way too noticeable. I really like this green shade, it gives it a vintage look especially with the original gold/white hardware.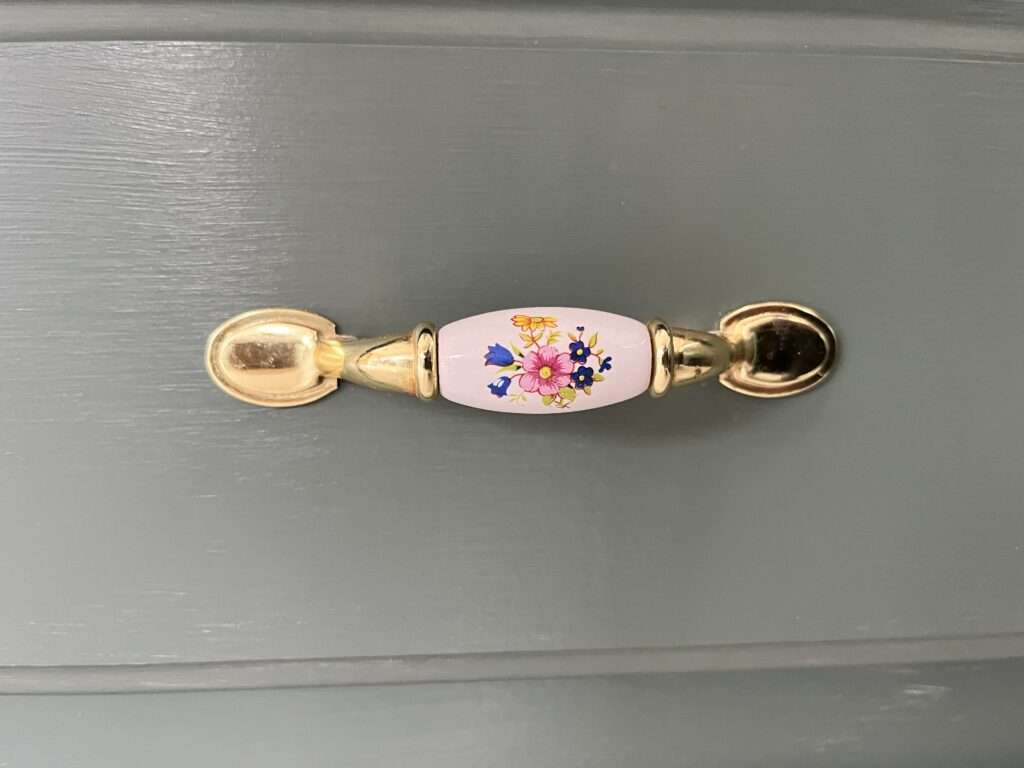 We removed the microwave because we never use a microwave and haven't in 10 years. Removed two upper doors and made floating shelves and made a beautiful tea/coffee station. We made the shelves out of pine lumber that we sanded and cleared with Behr Polyurethane Clear Finish. It turned out beautiful.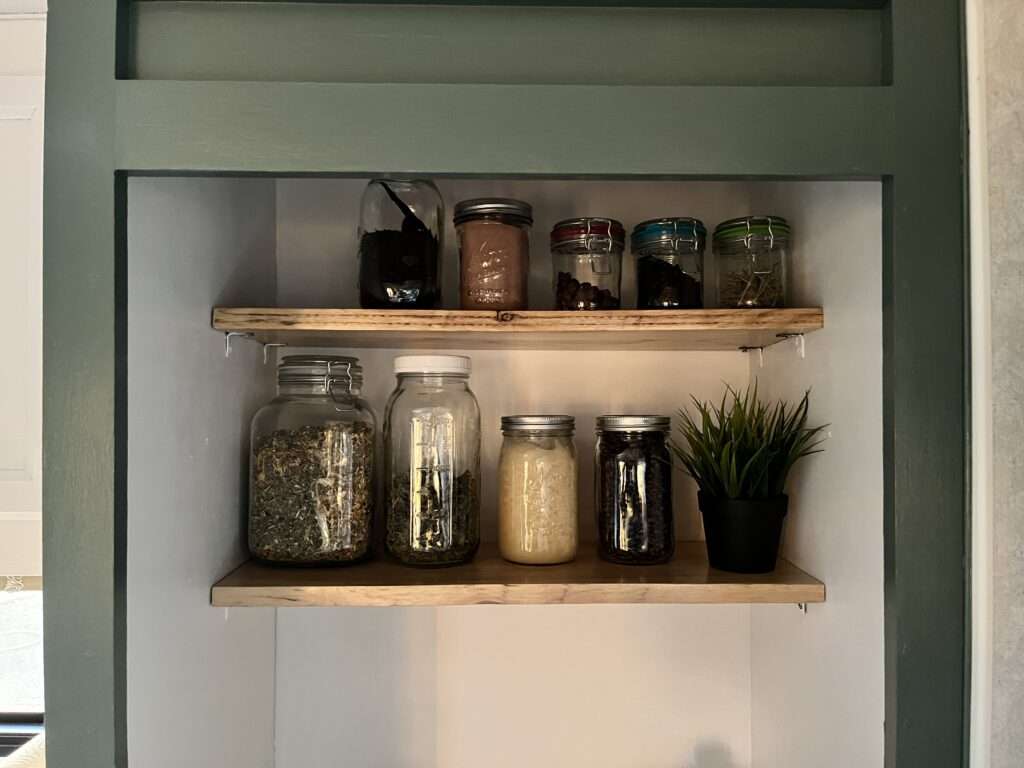 Preparation
Remove all cupboard doors and all hardware from the doors. Remove drawers and hardware.  Use painter's tape to mask off any areas you don't want to be painted.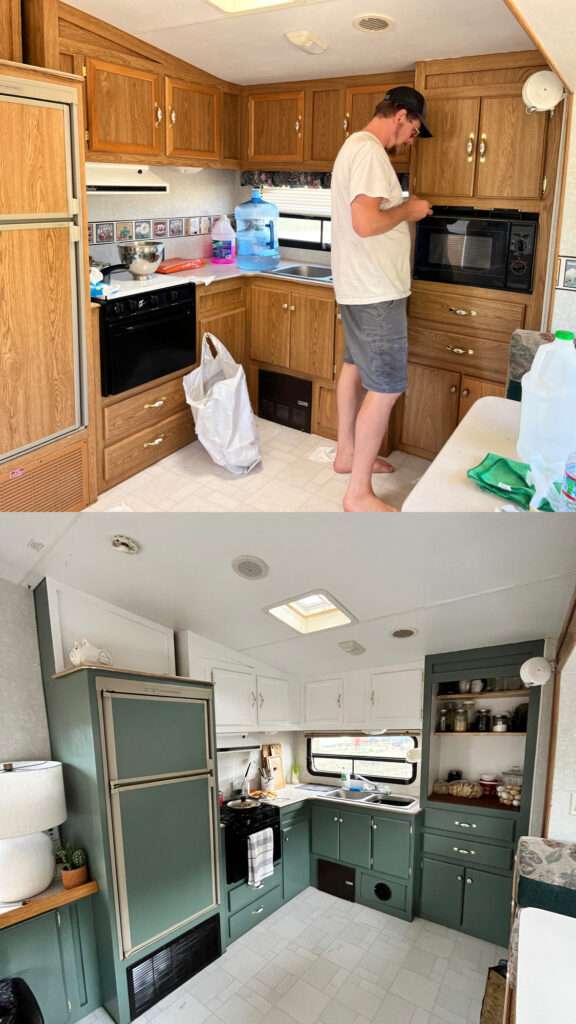 Cleaning and Sanding
Thoroughly clean all surfaces to be painted to remove any grease, dirt, or debris. Lightly sand the cabinets to create a better surface for the primer and paint to adhere to. Wipe away any dust after sanding with rubbing alcohol and a paper towel.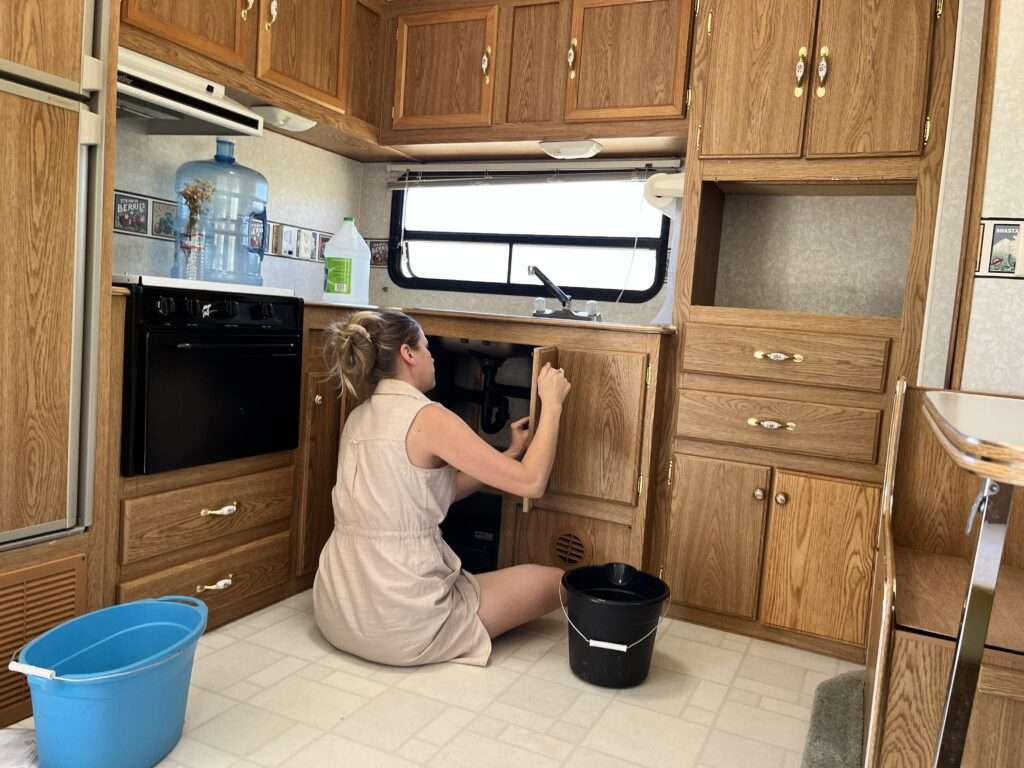 Primer
Apply a coat of primer to all the surfaces you plan to paint. Primer helps the paint adhere better and can also block any stains or dark colors from bleeding through your new paint. Let the primer dry according to the manufacturer's instructions. Remember to check if your paint comes premixed with primer.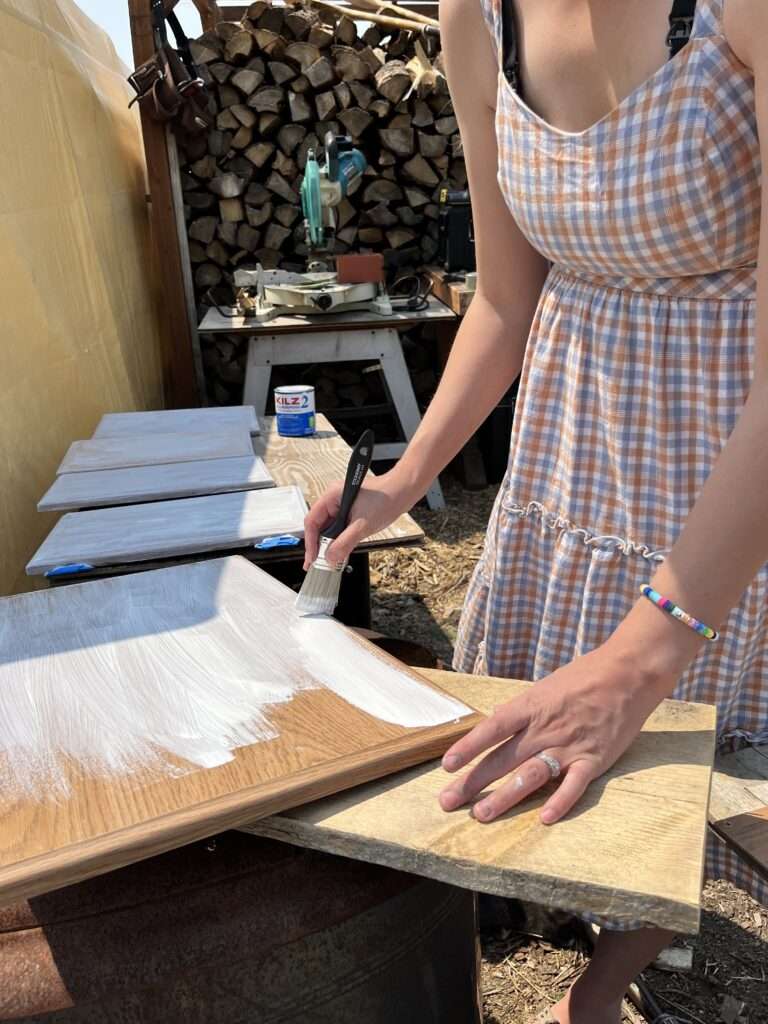 Paint the upper cabinets
Start with the upper cabinets. Using your chosen paint color, apply a thin and even coat of paint to the cabinet frames. Start with a brush to get into the edges and corners and then using a roller paint the larger flat surfaces. Paint the cupboard doors outdoors in a clean area. Allow the first coat to dry completely before applying a second coat if needed.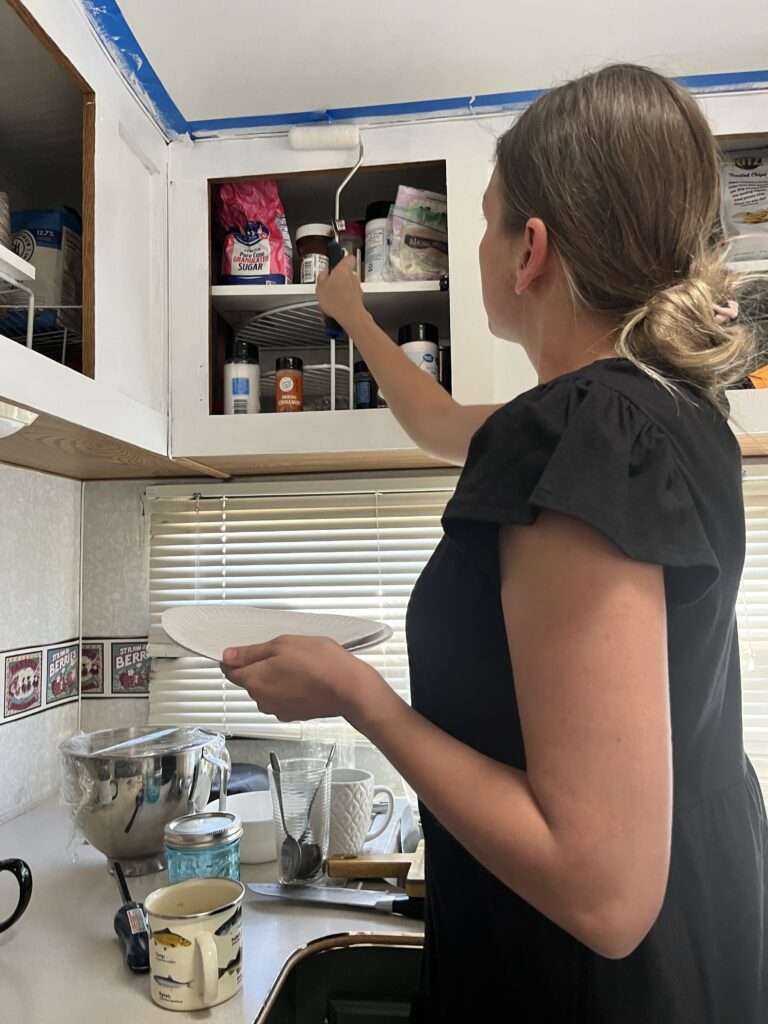 Paint the lower cabinets and drawers
 Once the upper cabinets are dry, move on to the lower cabinets using your second paint color. Apply the paint in the same manner as you did for the upper cabinets, using a roller for flat surfaces and a brush for corners and edges. Paint the cupboards and doors outdoors. Allow the first coat to dry, and if necessary, apply a second coat.
Reassemble and Finishing Touches
Once the paint is fully dry, carefully remove the painter's tape. Reassemble the cabinet doors and reinstall any hardware that you removed. Take your time to ensure everything is back in its place and looks tidy.
Spray paint the vent covers
We painted the orange vent and heater covers black with a spray paint by Behr satin (found at Home Depot).
Conclusion:
Remember, patience is key during this DIY two toned paint project, and it's essential to follow the manufacturer's instructions on the paint cans for drying times and other recommendations. By the end of this process, you'll have a beautiful two-toned kitchen in your RV that you can be proud of!
We purchased a 1996 Mallard 5th Wheel and slowly remodeling it while living in it. If you want to follow along on our journey find us on IG @shakanranch