Cabbage Rolls are a very hearty and filling dish. It's cooked cabbage leaves with a meat and rice filling. Served with a dollop of sour cream and some fresh dill.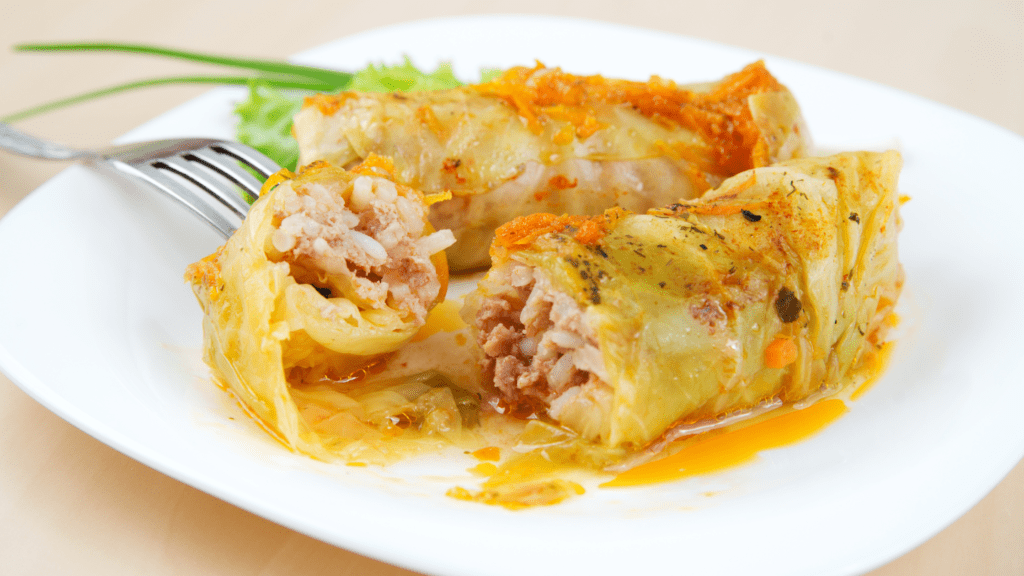 Ingredients for cabbage roll:
1 medium cabbage head
1 lb ground chicken (I grind chicken thighs myself)
1/3 cup uncooked rice
1 carrot
1 onion
1.5 tsp salt
1 tsp pepper
Ingredients for sauce:
2 cups water
2 tbsp sour cream
2 tbsp ketchup
4 garlic cloves minced
1/2 tsp salt
Dill
Equipment used:
Directions:
Take of first 2 cabbage leaves and remove core as shown in video
Boil cabbage rotating it and taking off leaves as they soften and can be easily removed.
Remove all fat from chicken and grind on meat grinder.
You can grind your onion and carrot which means less dishes!
Mix the meat, carrot, onion, uncooked rice, salt, and pepper.
Cut the bigger leaves in half and remove the hard middle stem. For small leaves I cut off the raised part on the back of the leaf on the stem.
Place 2 tbsp of your meat mixture in the cabbage leaf and roll. Then stuff both of the sides inside with your finger.
Place the stuffed cabbage rolls in your instant pot.
Mix the sauce ingredients together and pour over your cabbage rolls.
Pressure cook for 15 mins.
Serve with a dollop of sour cream and sprinkle dill over.
Enjoy!