Summer Sherbet is such an easy and delicious summer dessert with just 2 ingredients.
This is a super quick and easy recipe for a summer strawberry sherbet with just two ingredients. Plus its soooo delicious.
Who else loves strawberries especially in the summer time when you can buy them from a local farm.
Who loves condensed milk? I think anything with condensed milk is so delicious.
For this recipe all you need is some local or store bought strawberries and condensed milk. Wash and hull the strawberry (remove the stem). Freeze the strawberries on parchment paper overnight or at least an hour before you make this. In the morning place your frozen strawberries into the blender and then add condensed milk to it. Blend everything up until the mixture is smooth and creamy. You can eat it right away or put it in the freezer for an hour or more before eating. (if you can wait that long!)
**Pro Tip: The longer you freeze your strawberries the creamier the sherbet will be.  
Equipment:
This summer sherbet is perfect for those hot summer days when you are relaxing by the pool with your kids. We recently had a heatwave in WA. Our weather is usually in the 80's during the summer but with this heat wave we were over 100°F.
Of course we got a pool for the kids and we have been so thankful for it. It saved us during the heat wave. We were in it all day long cooling off. Coming inside after the pool you feel so fresh and it lasted a couple hours, then you get hot again and have to get into the pool. This was our routine during the heat wave. 🙂 Even now my kids are in the pool on most days.
Hope you guys will love this as much as we did.
This recipe can work with many other frozen fruit as well. It would be fun to experiment and try mango, pineapple, or raspberry.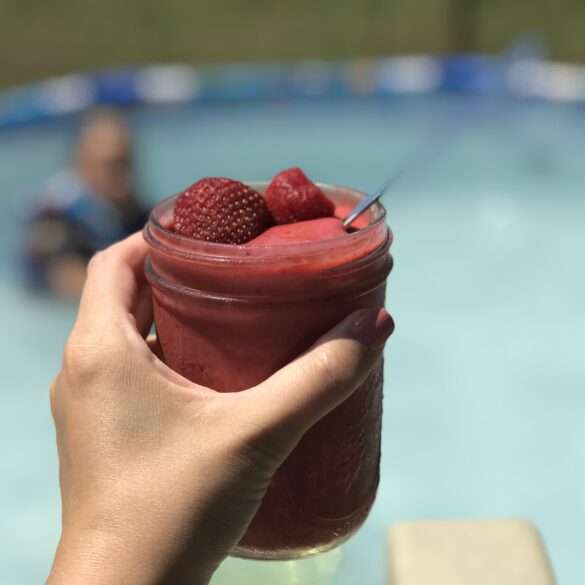 Ingredients
1 pint of local strawberries

1/2 cup condensed milk
Instructions
Wash and hull strawberries.
Freeze strawberries on a parchment paper overnight or for at least 1 hour.
Blend strawberries and condensed milk until creamy.
Enjoy!
Notes
The more frozen the strawberries, the more creamier the sherbet will be.
Another recipe you might enjoy. Guilt free banana split with a twist.
Follow me on instagram where you can see more recipes on my stories.
Thank you for stopping by.